Thriller
International Mystery & Crime
Fiction
| Synopsis |
The electrifying sequel to THE FREEDOM BROKER, featuring Thea Paris, a kidnap and ransom specialist. For Thea, kidnap is always personal – her brother's life was nearly ruined when he was taken as a child. Lisa Gardner says THE FREEDOM BROKER is 'clever and gritty' and Peter James calls it 'spellbinding'. If you like David Baldacci's King and Maxwell series, you will love this.
When Thea Paris's flight is hijacked over the Libyan Desert, her first priority is the two former child soldiers she is escorting to a new life in London.
As an international kidnap specialist, Thea Paris negotiates for hostage release as part of her job. She knows one wrong move could lead to deadly consequences.
After she is forcibly separated from the boys and the other passengers, Thea and her tactical team quickly regroup. And in their desperate search for the hostages that follows, unearth a conspiracy involving the CIA, the Vatican and the Sicilian Mafia, and a plot far more sinister than Thea could ever have imagined.
| Interview |
What book from your childhood still has a place in your heart today?
The Brotherhood of the Rose by David Morrell.  When I read that novel, I knew that if I could ever transport readers to another place like David did for me, I would be a very happy person.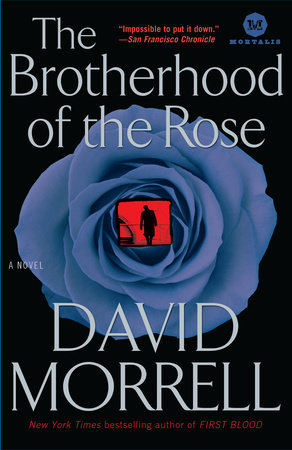 Which fictional character stayed with you long after you finished the book?
Hannibal Lector from the Thomas Harris books.  He's the most compelling and complex villain I've read.  Everything about him was so carefully crafted and impactful, he leaves a mark on everyone who reads those novels.  Besides, the bad guys are so much fun to write and read.
Can you tell us a little about your journey with your new release?
I love to fly, but my character Thea Paris doesn't feel the same way.  I immersed myself in the world of aviation to prepare for SKYJACK.   Since 9/11, there have been many measures instituted to protect pilots, making it almost impossible to access the cockpit.  But that got me thinking, what if the antagonist is already inside the cockpit?  We're seeing the results from this potential loophole with the German Wings tragedy, where the co-pilot flew the plane straight into the French Alps, locking out the pilot.  I used this concept as a springboard for SKYJACK.  Buckle up for a turbulent ride…
Do you get an emotional connection to your characters?
In SKYJACK, a character I cared for dies…and it was gruelling for me to write that scene.  I didn't want to lose that person, but it felt like the right decision for the story, so I fought my reservations and immersed myself in the story.  It felt like someone had sucker-punched me, but I hope the scene resonates with readers.
Can you please, share a photo with us that tells a story.
What was your favourite read of 2017?
The Marsh King's Daughter by Karen Dionne, a fresh, unique tale that kept me flipping pages deep into the night.  Of course, there was a kidnapping component to the story…which absolutely gripped me.
If your book came with a theme song what would it be?
"Don't Stop Me Now" by Queen.   It's a fast-paced, energetic song that reflects the way I like to write and the stories I tell.  It's all about momentum, and how when things get rolling, they pick up a propulsive force of their own, like a good story should.  It's also the way I feel when the words flow from my imagination onto the screen.  I just want to keep the writing going without interruption.  And, Freddy Mercury rules.
Is the genre you write your favourite to read?
I'm an adrenaline junkie in all respects, so thrillers are the ideal fit for me as a reader.  I love high stakes, whiplash pacing, and international locales.  Bring on Bond, Bourne, and I'll be in action paradise.
If you could ask your readers anything, what would you want to know?
I'd like to ask them what resonated most about the story and where I might have fallen short.  I look at writing as a lifelong journey, and I hope to improve my craft and storytelling ability with each novel.  And the best way to do that is to have readers give honest feedback.
What are you working on now?
Book three in the Thea Paris series, which focuses on journalists kidnapped in Jordan.  I'm very excited about this one, as I've befriended a fascinating man who works as a hostile environment consultant, protecting journalists in war zones.  The insights into this world should make for an interesting read.
|Publisher Info|
If you enjoyed the blog please leave a like and a comment. We would love it if you could share it on Twitter & Facebook.  It really helps us to grow.  Thanks so very much.