If you are in Edinburgh this week then I strongly suggest an uplifting and energising evening at Cirque Berserk.  A circus show made for theatre, with a large close-knit team of talented performers. The team arrives at The Festival Theatre, Edinburgh with a BANG!
This is an extremely professional show and it sets the standard very high.  What was unusual and a welcome change was an announcement at the start of the performance was that it was, in fact, an interactive performance and the audience was encouraged to take photos and videos and spread them across social media.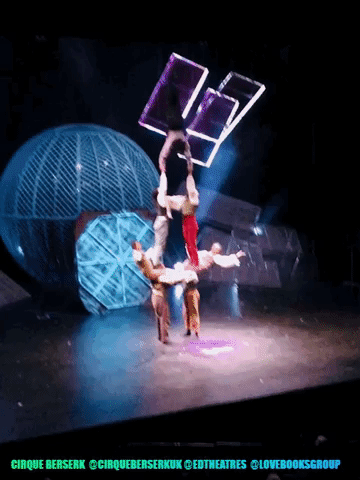 You can expect to see an array of various acts, from the energetic and very flexible Timbuktu Tumblers the brave and strong Tropicana Troupe from Cuba who set your heart racing with there daredevil leaps and our absolute favourites the Lucius Team who's motorbike stunts inside the globe of death had the audience's jaws dropping.  These were just a few of the acts from the talented ensemble.
We had the opportunity to meet the Lucius team after the show and step inside in the globe of death for a photo. It is very small once you are inside the dome and the lights are so strong, it made me have even more respect for these talented chaps. It was a real privilege to meet them.
A riveting performance from start to finish that has your heart leaping from your chest and big belly laughs with the comedy of Tweedy the comedic factor of the show.
So if you are in town book a spot, there are shows all week including three on Saturday.
| Ticket Information |
 Telephone: 0131 529 6000 
Website: Cirque Berserk Edinburgh
Thank you to @EdTheatres for the opportunity to review, and thanks to @CirqueBerserkUK for the amazing chance to meet the Lucius Team and go inside the dome.
If you enjoyed the blog please leave a like and a comment. We would love it if you could share it on Twitter & Facebook.  It really helps us to grow.  Thanks so very much.
You can also connect with us on social media:-
Twitter
Instagram
Facebook