On a chilly Edinburgh afternoon in the warm core of The Scottish Storytelling Centre theatre. I was transported back in time to 1946.  The live audience recording of the radio play It's a Wonderful Life.
With a talented cast of just seven actors playing various characters and all with varying American accents.  It was a delight to watch, with humorous and humbling moments throughout. Watching the story being performed as a radio play was a terrific indulgence that I would want to relive every Christmas.
No Nonsense Productions really have a captured the essence of the 40's. With the set, clothing and little details such as the fake advertisements between acts. Was simply perfect.
I've only seen the movie version once before and it's terrific. But the play for me came out on top. This is its 6th year running and I hope it has many many more.  For me, it was the start of my Christmas season.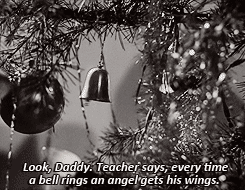 By Love Books Group 
If you get time to stop by The Scottish Storytelling Centre, it's wonderful to have a wander around and catch some great shows.  The little cafe is a treat with hot food, soups and cakes which are all scrumptious.
Visit the website here: http://www.tracscotland.org/scottish-storytelling-centre